The French Indian Wars
We are still making this range of figures to the same scale as before. We have learnt a great deal from the first series and our new range of Indians and Scottish troops grows apace.
Indians have more action poses than before. Many will be firing bows, still a popular weapon due to speed and silence, also ideal for setting buildings on fire, as one of our sets will show.
Our Scottish troops will be the 42nd Highlanders, Black Watch, in various action poses.
We hope you enjoy this new range of figures as much as we enjoyed creating them for you.
British Personalities
French Personalities
British Artillery
French Artillery
Woodland Indians
Woodland Indian Canoes
British, 35th Regiment of Foot, Plains of Abrham at Quebec
Fusiliers
Grenadiers
(Please note, IBG5, this photo is missing detail on front of hat, of course this is added in production
42nd Highlanders (Black Watch)
Roussillon Royal Regiment
French Marines
Regiment De La Reine, Grenadier Company
Fighting Groups
Grenadiers
Scenics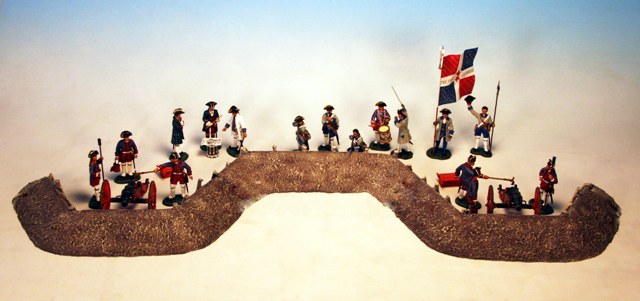 Please note sets do not include figures only scenics